Thursday, January 15, 2009
It is the cold time of the year.I've always waited for it and now that am witnessing it I feel why the "hell"???.Winter is jes not about snowfall; it's much more than that. Its white and white everywhere which makes it beautiful but darn painful. Driving gets difficult, I don't get to go out as often as I used to,severe cold & so on.Today is the worst day,the coldest winter where in temperature dropped to -21 F ie.,-26 C. Huh, we went out for Dinner and in spite of the layers and layers of clothes it was terrible.

Winter is the time for comfort ,for good food and warmth,for the touch of a friendly hand and for a talk beside the fire;it's the time for home – Edith Sitwell.

And to enjoy the comforts of good food we hosted a Dinner and laid a feast to few very good friends. I tried out "Stuffed Capsicum Gravy" for the first time and it was surely a "hit".It ended up a l'il spicy but then I toned the spice down by adding cream and it made the dish all the more rich,creamy and tasty!

Ingredients :-

For the stuffing:

Capsicum – 3 (smaller the better)
Potato – 2 boiled and mashed
Frozen Peas – ¼ cup(optional) – cook as per instructions
Chilli powder – 1 tbsp
Coriander powder – 1 tsp
Cumin/Jeera powder – 1 tsp
Oil – 1 tsp
Salt – as per taste

Gravy:

Onion – 1 (finely chopped)
Tomato – 5 (pureed)
Ginger Garlic paste – 1 tsp
Cumin/Jeera seeds – 1 tsp
Kitchen King Masala – 2 tsp
Coriander powder – 1 tsp
Turmeric powder – 1tsp
Kasoori Methi – 2 tbsp
Oil – 1 tbsp
Chilli Powder – 2 tsp
Cream – ½ cup
Cashewnut Powder – 2 tbsp
Crumbled Paneer – for garnishing(optional)
Cilantro/coriander leaves – for garnishing
Salt – as per taste

Method:

1.Mix all the stuffing ingredients except for the Capsicum and set aside.
2.Cut the Capsicum into two halves, deseed and cut the stalk .Stuff the above Potato mixture inside the capsicum.
3.Apply oil around it and bake it for 250F until it gets soft (You'll see the wrinkles).Let it cool.It took me about 25 mins,am sure the timings completely depends on each oven used so it may vary.




4.Heat oil in a kadai,temper jeera,once it starts crackling add ginger garlic paste, onions and sauté until translucent.
5.Add the Tomato paste,salt,chilli powder,turmeric powder,coriander and jeera powder. Add water (1 ½ - 2 cups).
6.Onc e the raw smell disappears add Kitchen King Masala,Cashewnut powder and Kasoori Methi.
7.Stir well,add cream and switch of the flame.You'll end up with a tangy thick gravy.

Before serving,place the Stuffed Capsicum in the serving bowl and pour the gravy on top of it.Garnish with cilantro and crumbled Paneer.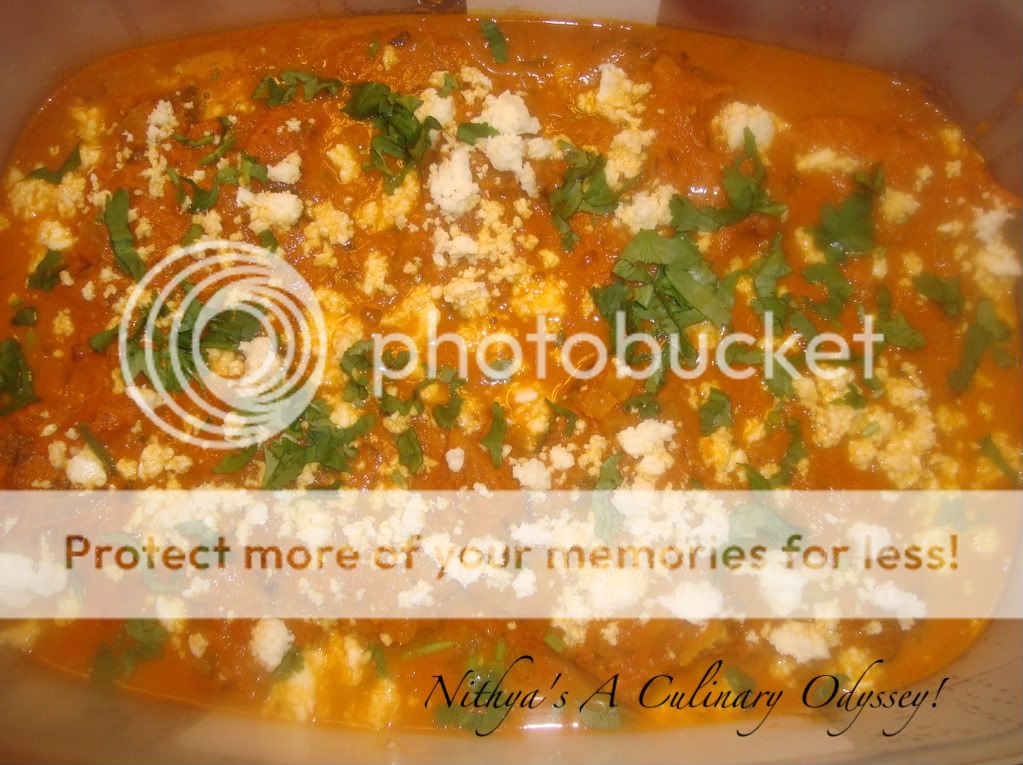 The Capsicum's that I used were large so i had to cut the halves again,the smaller the better. Depending on the requirement,use more Bell Peppers/Capsicum.I wanted to make it rich,hence added Paneer and cashewnut powder,these can be avoided too.Also, more water can be added to get the gravy consistency.